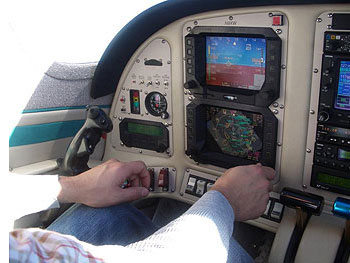 Save Money and Time
Combine Chelton EFIS Training and your HPAT / Lancair Insurance Checkout.

Just making your avionics decision; Talk to your avionics dealer about including a System Verification from EFIS Training in the cost of your panel.

Over 75% of Experimental Aircraft owners spend 50 to 100 hours troubleshooting, debugging, and setting up their avionics. That's 6 months of not having the airplane you dreamed of.

Safety in knowing how to fly behind your EFIS
Not knowing how to use your equipment properly is just as dangerous as not having it at all. The EFIS training course is highly specialized and designed for systems in Experimental Aircraft.

Josh Brungardt has exceptional credentials including:
Assistant Chief Pilot: High Performance Aircraft Training Inc. www.highperformanceaircrafttraining.com

Chief Pilot / Instructor: RANS Inc. www.rans.com/ranshome.htm

Chief Pilot / Instructor: Lancair International www.lancair.com

Safety in Hiring the Right Professional
Josh Brungardt and EFIS Training is recommended and Supported by the most Trusted and Recognized Names in aviation including:
Chelton Flight Systems
Aerotronics
Avionic Systems
Lancair Avionics
SteinAir

Costs
$350.00 for 1/2 day of training. Minimum of 2 hours, maximum of 3 hours.
$700.00 for full day training, Minimum of 3.5 hours, maximum of 5.5 hours.
$350.00 for any weather days or travel days.
Costs do not include travel expense or room and board and all students must have current insurance, complex endorsement and high performance endorsement.



Testimonials

Tim Olson (RV-10 builder/pilot)
"I had a few distinct pleasures at LOE. First and foremost I got to swap seats with Vic Syracuse in our respective RV-10's, and trade the experience of flying each other's plane. It's a valuable experience to learn from another builder and see a new perspective on both flying and aircraft layout, and to get this time in Vic's plane was great. Adding to the awesome experience was the fact that Josh was there, so he came along with us for our flights. Josh is a very experienced pilot and an extremely good stick. When he flies your plane, you know it's in capable hands. Not only did Josh teach us a few new tricks and expose us to some new features of our Chelton EFIS's (it's amazing how much you can find when you dig into them), but he spent some time helping to get our altitude holding down to even tighter tolerances by tweaking our TruTrak Autopilots. Without a doubt, he knows his way around the Digiflight II VSGV and Sorcerer. We left with them flying even better than ever before".

Don Barnes (Lancair Legacy builder/pilot)
"The true highlight of September was my check out training in the Legacy. I flew with Josh Brungardt and the best thing about training with Josh, is training with Josh. He is very low key, but highly competent. With 500+ hours in "his Legacy" he let's you fly, but he's always "on" so you don't go too far into an error. The check out went fine and I learned early on how this plane can get ahead of its pilot. Everything happens fast and the take-off can be best described as a "flow". It's power on, rotate, gear up, flaps in, prop back, turn downwind. It happens quick. Landings are fast and the stick forces are very light. The key is to keep everything smooth and fluid. After 10 hours in it, I was making perfect deadsticks and felt very safe and comfortable with this plane. I feel a proper check out is so important. In a clean configuration it will glide nice, but once dirty, your rate of decent will be 3000 FPM. It's a matter of holding onto the wheels until you have the field made. Thank you for the training Josh. I enjoyed every minute".

Dennis Johnson (Lancair Legacy builder/pilot)
I'm happy to announce the successful first flight of my Legacy this morning! It flew just like it was supposed to, which is incredible. Five minutes in this airplane is worth all the sanding and filling, sanding and filling, etc.

I took off from our home field and flew to Lincoln because of its wider, longer runway for my first landing, a full stop. It was actually a pretty good landing; certainly the best I've done since getting back into flying after a long layoff. I shutdown and gave the airplane a close inspection, let some of the adrenaline subside, and took off. After satisfying myself that I was safe to land at Westover, I†flew home. I landed just past the numbers, on airspeed and popped the speedbrakes as soon as I was on the ground. Gentle braking and I easily made the next to the last turnoff. What an airplane.

There are too many people for me to thank everyone, but I couldn't have done it without you. You guys made the task more fun and helped me build it better. I can't thank you enough. And a special thanks to Josh Brungardt of HPAT for such a great instructional effort in 199L to get me ready for my first flight. That training was the best money I've ever spent!